B. RESIDENCIAL
HEREDIA VILLA RESIDENCES:
B1- HEREDIA, VILLA SOFIA: House of 500 m2 with 1800 m2 of lot, full of gardens, great neighbors, terrazas around the house, 1 main bedroom, 3 adicional bedrooms, 2 livingrooms, 1 service room, warehouse, 3 toilets, security 24/7. More info>>
CENTRAL VALLEY LOTS & RESIDENCES:
B2- SANTA LUCIA, HEREDIA : RESIDENCIAL VILLA ESMERALDA, 475 m2 and 2000+ m2 Spectacular views. 475 m2. See Plan.
B3- HEREDIA CENTRO : RESIDENCIAL BELLO HIGUERON, 1800 m2! Privacy in the beautiful city of Heredia. 1834 m2. See Plan.
B4- REAL TERRANOVA, ALAJUELA : Closed Gated Community. Luxury Finishings, Porcelanate floors, Laminated floored rooms, Granite on kitchen tops, Solid wood doors. click for more>>
WEST VALLEY LOTS:
B5. SARCHI, ALAJUELA : VILLA SARCHI, Lots to SELL! Great weather... enjoy the countryside of Costa Rica. Project under study.
ATLANTIC FLATLANDS LOTS:
B6. GUAPILES, LIMON : Lots. Caribbean flavor. Ready to build.
B7. SARAPIQUI, HEREDIA : Lots. Exhuberant nature under the sky full of stars. Under purchase process.
SOUTH VALLEY
B8. PEREZ ZELEDON LOTS : Lots. Contact with nature at the feet of the Talamanca mountain range. Project ready.
C. BEACH PROPERTIES
C1. MARINA FLAMINGO VILLAGE : CLOSE GATED VILLAS,
From your terraza in the third floor you can see the Marina. Just a Dream!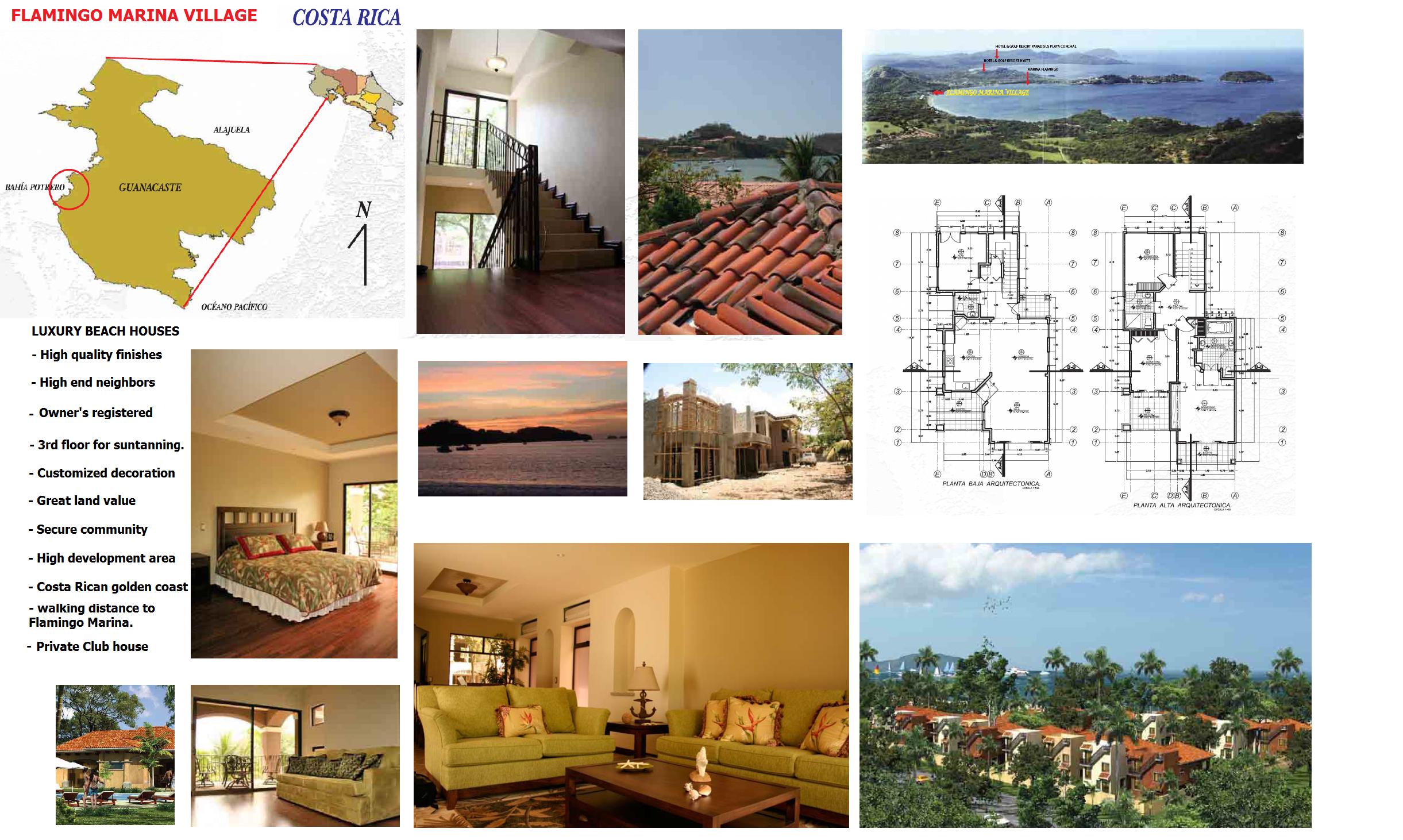 C2. MARISOL CONDOS, DOMINICAL BEACH VILLAS :
CLOSED GATED VILLAS, Luxury in Costa Rica!. clic for info>>
D. INDUSTRIAL
D1. INDUSTRIAL PLANT :
This 1200 m2 industrial plant, including 700 m2 storage place is surrounded by 2000 m2 of green areas, at only 2 h of the main port. RENTED.
D2. INDUSTRIAL / RESIDENCIAL / COMMERCIAL PLOT : MIXED SOIL USE :
This property of 130 000 m2 has access with train line, street and the perfect view of the Central Valley. Location >> clic. ON SALE.