B. From our FARMS
Green Coffee Beans SHB - Cascara Tea - Green Coffee infusions
Having the systems of CAFE Practices we control the cultivation from the seed to the green bean.
Every step of the process is followed by Agronomists from clients specialists or from inside of the company.
Come over to see yourself our farms. You are more than welcome to take a coffee tour.
Our farms extend in different regions of the mountains of Costa Rica, as follows: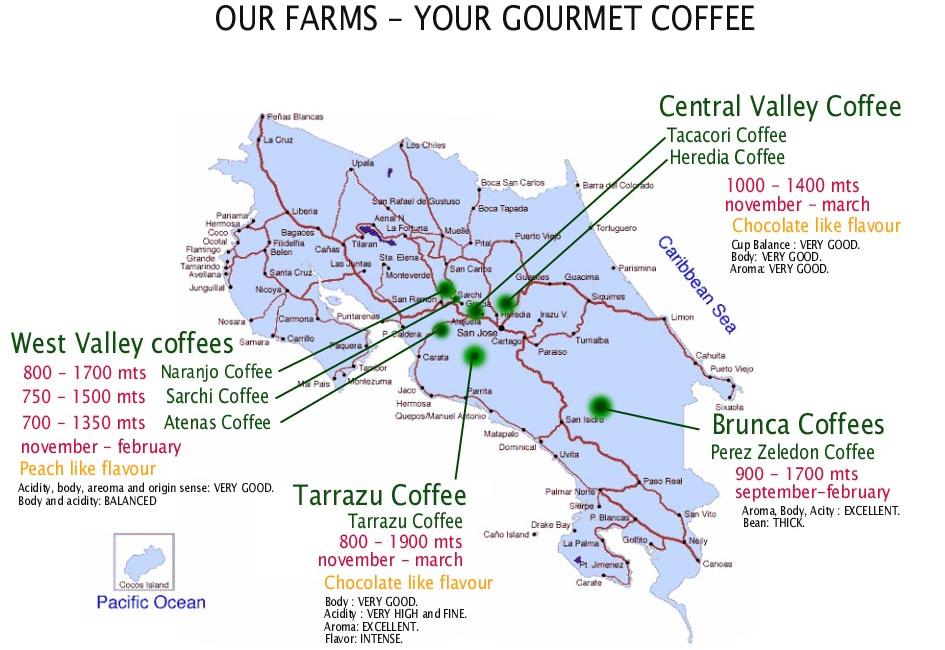 C. OUR SINGLE ORIGIN FARMS : Different farms. Come and visit !
WEST VALLEY BEANS
CAFÉ FINCA SARCHÍ – beans the most folklorid wotn of Alajuela. This farm is surrounded by flowers and the slops of the terrain have orange trees.
CAFÉ FINCA PALMITOS – beans from a farm that receives the moisture of the Zarcero village. The farm has a river and pine trees. The shadow is provided by guava trees and the soil is rich in clay.
CAFÉ FINCA ATENAS – the farm is a hill where the winds are bringing the Pacific Ocean breeze. A city recognized to have a perfect weather all year long and the shadow is provided by fruit trees. The farm has an internal forest and wild nature.
CAFÉ FINCA TACACORÍ – The farm is located the slopes of the volcanic mountain range, with a river crossing the farm and warm and hot weather provide good conditions for the fruity trees used as shadow.
CENTRAL VALLEY BEANS
CAFÉ FINCA SAN PABLO DE HEREDIA – The farm is located on the metropolitan area and surrounded by flower gardens. The farm has very fertile soils from volcanic origin.
CAFÉ FINCA SAN JOSÉ DE LA MONTAÑA – High altitude farm at the slopes of the cloud forest, therefore the coffee trees coexist with permanent moisture, moss and cypress trees.
TARRAZU NEIGHBORHOOD
CAFÉ FINCA PALMICHAL – The farm belongs to the Tarrazu mountain range and recognized as a coffee district. The high altitude and cold weather produce a bean of high density.
BRUNCA SOUTH VALLEY
FINCA PEREZ ZELEDÓN – The farm is composed by different sections and different altitudes including water cascades. The Pacific warm south weather is rainy and produces an exuberant continuous spring on the slopes of the highest mountains of Costa Rica (Cordillera de Talamanca).